Singapore, 5 April 2022 – aspurely, a local, homegrown, clean skincare brand, partners with Zest

Clinic to launch "Love Your Planet Project", which runs from April 15 till the end of the year. Through this project, aspurely and Zest Clinic aims to encourage and help members of the public to be mindful and environmentally-conscious of the way they choose to dispose their used skincare bottles (plastics
only) . For every donation, members of the public will receive a 20 percent discount on aspurely's skincare products and a complimentary 30-minute health screening and wellness consultation at Zest Clinic.
aspurely, 'as purely', implies the term simplicity – simplicity of the brand's promise to only clean, efficacious skincare with no alcohol, sulphates, silicones, parabens, fragrances or colourants in its ingredient lists. In line with Earth Day 2022, "Love Your Planet Project" reaffirms aspurely's mission on sustainability. 
The used skincare bottles will be picked up by a sustainable, Singapore-based business, The
Sustainability Project (TSP). The empty skincare plastic bottles will then be given a new lease of life through ways such as reusing them during workshops to store body scrubs or redistributing them to
forty-five businesses in the Zero Waste Packaging Initiative to reuse in their operations. The Zero Waste Packaging Initiative aims to give packaging a second life, which includes empty skincare plastic bottles. The remainder of the used skincare bottles will be collected by recycling company, Eco Exchange that
will recycle the plastic bottles safely and responsibly instead of sending them to landfills that harm the environment. The plastic bottles will be consolidated and sent to a plastic recycler where it will be crushed into smaller pieces and made into granules as new raw materials. Eco Exchange ensures that all carbon footprint will be managed responsibly.
Made from sustainably grown plant extracts aspurely ensures that their product ingredients are extracts from plants that are sustainably grown and harvested with minimal impact on the environment; processing of these extracts do not use any heat
or toxic solvents that are commonly used; and the brand's amino acid based and olive oil based surfactants are non-toxic and biodegradable which will not cause toxic discharge wastewater. For nature to be seen and experienced by the generations after us, it is important for the brand to be eco-friendly so that they are able to preserve such sights.
Coreenna Ong, Co-Founder and Head of Research and Development of aspurely said, "We are incredibly thrilled to introduce Love Your Planet Project with Zest Clinic and we look forward to a successful partnership that matches our sustainability efforts. We recognise that this is a step in the right direction as aspurely wants to encourage others to adopt a minimal waste beauty lifestyle for the betterment of both planet and people. We believe that beauty care can embody clean, holistic and high-performance ingredients while being kind to our environment." The philosophy surrounding the idea of sustainability goes beyond the packaging. Each product comes with a transparent list of labels to educate eco-conscious consumers. In place of traditional preservatives, aspurely uses all-natural preservatives in their formulas to eliminate microbial contamination and ensure product safety. These natural preservatives are made from eco-certified botanicals and plants which are environmentally-friendly and will not irritate the skin. All their key ingredients are selected to ensure that each final product delivers its intended purpose of optimal user efficacy.aspurely's proprietary blends are deeply rooted in the concepts of synergy, where rigorous testing is carried out to ensure each natural element works effectively and safely with all other elements in the formula.
aspurely Starter Pack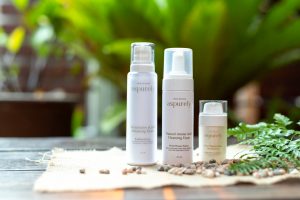 aspurely's Starter Pack is perfect for individuals to kickstart their clean skincare journey and achieve healthier skin. The starter pack consists of Natural Amino Acid Cleansing Foam, Restorative & pH Balancing Toner and an Ultra-Regenerative Moisturiser, specially curated by aspurely's team. These powerhouse trio each has a key ingredient to help elevate one's skincare routine.
Starting with the Natural Amino Acid Cleansing Foam, the key ingredient is PeachPurifyTM – made of a Peach Flower extract that is high in antioxidants with detoxification and skin purifying properties, allowing the individual to achieve clearer skin after each wash.
The next item would be the Restorative & pH Balancing Toner which is 100% alcohol- and fragrance-free and helps to balance and restore one's skin's natural pH. The key ingredient is the Balancing BuddlejaTM – made of Buddleja Extract that neutralises free radicals and delays signs of skin ageing while soothing the skin. Buddleja, also known as summer lilac, is a mountain flower that grows only in the Swiss Alps. This flower is able to adapt to high levels of solar radiation which makes it a powerful antioxidant and free-radical neutralizer.
For their bestseller, the Ultra-Regenerative Moisturiser is a potent concoction that is non-greasy,provides a targeted delivery of actives into the deeper layers of the skin, and regenerates the skin's ability to produce glycosaminoglycans and hyaluronic acid. The key ingredient is Soothing WillowherbTM – made of rare organic Glacier Willowherb Extract, only found in wildflowers that are native to the Swiss Alps. It is selected for its skin soothing, sebum regulating and anti-inflammatory properties. It deactivates harmful bacteria that causes acne, redness and inflammation while promoting beneficial bacteria to keep the skin feeling strong and resilient.
Campaign Date: Friday, 15 April 2022 till the end of the year
Location: Zest Clinic located in Precious Medical Centre. 80 Marine Parade Road, #01-11B, Parkway
Parade, Singapore 449269