How to Choose a Protective Hand Cream?
The skin on our hands is one of the most high traffic spots for germs, viruses and bacteria. This is because we need our hands for almost everything! You never know what is on the surfaces you touch due to invisible germs all around you. 
So how do you actually protect yourself from potentially harmful germs? You can wear gloves but it is not a realistic option to wear them 24/7. The best way to counter this is by using protective hand cream instead. 
Today we will be discussing all that you need to know about protective hand cream and how it will benefit you. So please, read on! 
Why is hand hygiene important?
According to the World Health Organization, the hands are the main pathways of germ transmission. It is therefore very important to ensure that hand hygiene is maintained in order to prevent the transmission of harmful germs and prevent health care associated infections. 
The most important thing you can do to ensure your hands are clean is by thoroughly washing them. It can then reduce the risk of contracting infections like flu and food poisoning. 
You should also regularly wash your hands and always wash them after visiting the toilet, before handling food or after coughing or sneezing into your hands. 
Other options to maintain hand hygiene is by using gloves and using hand sanitizers. These options also reduce your risk from contracting germs.
Unfortunately, constant hand washing and usage of hand sanitizer can lead to dry and chapped hands. 
What causes dry hands? 
There are multiple causes of dry hands. Sometimes they are caused by medical conditions and other factors such as genes, the weather, your personal hydration, excessive hand washing and irritants, harsh soaps and detergents and certain medication you are taking. 
How to take care of dry and chapped hands?
It is important to take care of your hands. Not only are dry and chapped hands not exactly beautiful to look at, it can also be very painful. 
To counter the dryness, there are a few things you can do like use a humidifier so that the air around you is not so dry, seek medical treatment and cover up your skin during cold, dry or windy weather. 
However, the number one thing you can do to prevent and take care of dry and chapped hands is by ensuring that it is moisturized and hydrated constantly. 
Proper and constant use of a good, moisturizing and hydrating hand cream is the main key to taking care of the skin on your hands.
What are protective barrier hand creams?
Generally, protective barrier hand creams are used to protect against cleaning compounds, solvents, acids, oils and other chemical substances. However, for skin care, barrier creams are usually used before the application of foundations or BB creams and makeup. 
This is because barrier creams are effective at protecting your skin against skin irritants such as detergents. 
For hands, protective barrier hand creams may prevent certain problems such as contact dermatitis. 
There are three types of barrier creams – water repellent, water-soluble and those designed for special applications. 
Although hand creams are not the most effective against harmful substances (gloves are the most effective), it is the best option for daily use. The proper barrier hand cream should retain moisture in the skin as well as do its job to protect the skin from all the impurities. 
As the other effective way to prevent germs is through frequent hand washing, the dry and irritated washing caused by soap can be a problem. It may therefore be a better option to use a protective barrier hand cream so that you can prevent dryness and at the same time, keep hands clean and healthy. 
Should a protective hand cream be antibacterial?
There are a number of products that not only protects your hands, they also serve as an antiviral and antibacterial cream. An example of this type of hand cream is the increasingly popular aspurely Recovery & Anti-Viral Hand Cream.
Although not entirely necessary to have antibacterial properties in your hand cream, it is of course, a plus to have this property to minimize risks of contracting diseases.
Ingredients to have in a protective hand creams
To maximize protective hand creams and make sure that you're using only the best for your hands, make sure that the product you are using has the following ingredients in it. Read the labels carefully before purchasing the hand cream.
1. Activated silver particulate
This ingredient actively inactivated viruses, bacteria and germs. How does it work? Well silver is actually a well-documented antimicrobial that is known to kill bacteria. 
The silver ions that are positively charged (Ag+) that have the antimicrobial properties and these ions target microorganisms. 
Now silver has been rendered into active porous micro particulates. This has been clinically proven to be effective against viruses. 
It is non-toxic and does not irritate sensitive skin, which is why this is such a great ingredient to be included in protective hand creams.
How does Activated Silver Particulate work against viruses and bacteria? 
Well, the activated silver particulate forms complexes with the outer cell membrane of unwanted bacteria and viruses. This breaks down the defensive barrier of the bacteria and viruses. 
When this defensive barrier, also known as the outer cell membrane, has been broken down, the activated silver particulate can then penetrate into the 'inner chamber'. Protein structures and the inner chamber of the cell (nuclei) is messed up and therefore oxidized. 
This then efficiently disrupts the bacteria and virus' metabolic pathways, cell respiration and function. 
Furthermore, the activated silver particulate will enter into the virus' and bacteria's cell DNA, causing it to be disrupted. Viruses and bacteria cannot replicate and reproduce after that. 
This is how activated silver particulates work at being antimicrobial and antibacterial. 
2. Butyrospermum Parkii (Shea Butter)
The less technical name for Butyrospermum Parkii is shea butter. Technically, butyrospermum parkii is processed by being cold pressed and refined to form shea butter. 
This is a plant-based emollient that works very well on dry and dehydrated skin as it adds moisture to the lipids of your skin. Shea butter also has anti-inflammatory and healing properties so it soothes skin easily. 
3. Jojoba Oil 
Jojoba oil has healing properties as well as multiple benefits for the skin. It has been proven effective at treating skin conditions such as eczema and acne. 
Not only that, it is extremely hydrating. This is because jojoba oil is lighter than other oils and your skin easily absorbs it. It will deeply penetrate and soothe skin while softening it. 
Jojoba oil is also full of nutrients and antioxidants such as Vitamin E and B which is essential for skin. 
Another benefit of this ingredient is that it is not greasy at all. If you have naturally oily skin, this is perfect. This oil is very similar to a human's skin oil so it penetrates the skin easily without leaving behind any greasy residue. 
Therefore, as an ingredient for hand cream, it's one of the best.
4. Glycerin
This is a pretty common ingredient found in many cosmetic products. Glycerin helps to shield the skin from particles that irritate the skin. When mixed with other emollients and oils such as the above mentioned jojoba oil, it will make dry skin feel amazing. 
It also works as an enhancer for other ingredients to penetrate into the skin so having glycerin in your hand cream is a pretty great ingredient. 
5. Cetearyl Olivate
The presence of this ingredient in your hand cream is to increase the retention of moisture in your hands. It also helps to increase resistance towards water. 
As your palms are more prone to sweating, this ingredient can be a lifesaver. Some people have sweaty palms which wash off the protective barrier for your hands easily. 
Therefore, cetearyl olivate is a must have in good hand creams. 
The importance of managing dry hands during COVID-19 pandemic
Amidst unprecedented pandemic times, it is essential to maintain hand hygiene and cleanliness. It is touted everywhere that clean hands is one of the best ways to prevent getting COVID-19 so everyone needs to wash their hands constantly whether with soap or hand sanitizers. 
Although it sounds like a first world problem to complain about excessively dry hands due to the constant use of hand sanitizers and soap, the reality is that dry and chapped hands is a new problem that dermatologists are experiencing. 
A moisturizing and protective barrier hand cream that also sanitizes hands is the answer to that problem. The aspurely Recovery & Anti-Viral Hand Cream is perfect for skin because it has all the right ingredients including the activated silver particulate, maintains hand cleanliness and hygiene and is moisturizing at the same time. So do not worry about dry and chapped hands that are painful, uncomfortable and unhealthy.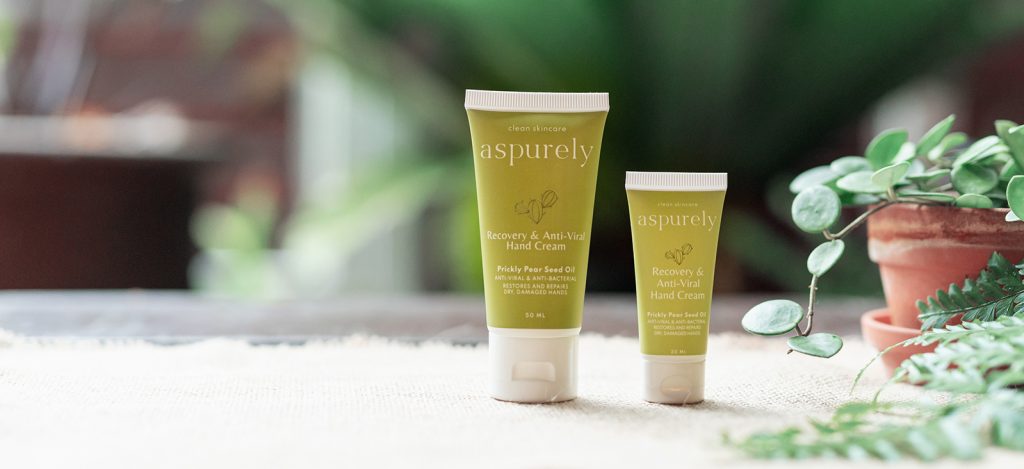 Conclusion
There is no need to choose between dry hands and clean hands when you can have both with the right protective barrier hand cream. Now it's even better as we have recommended products like aspurely's Recovery & Anti-Viral Hand Cream as stated above, whereby it kills germs, bacteria and viruses, protects your hands, keeps your hands clean and moisturized at the same time. 
Choosing the right hand cream is easier if you know what ingredients to look out for and now that you do, you can go looking for the best protective hand cream that suits all your skin's needs. 
With love,
aspurely