With the current pandemic scare, general cleanliness is emphasized, particularly for hands. However, overusing hand sanitizers and soaps may cause your hands to experience skin dryness and cracking in the surface. This is why a good hand cream that both sanitizes and nourishes your skin is so important.
Our hands need attention and daily care. As compared to other parts of our body, the skin on our hands receives the most use, and thus, the most abuse.
Do not fret if the cracking and dehydrated skin seems like a hopeless situation for your hands. Adding a good cream to your everyday routine can save it from total disaster.
How to choose a good hand cream?
Whether you want an intense moisture, SPF filled cream or a light formula, it is essential that you choose the right creams based on your needs.
As we all know, there are several types and brands of creams in the market, so choosing one can be overwhelming.
To clarify any confusion, you should first understand what goes into your hand cream and what type is suitable for your needs. 
Essential ingredients to look for in a hand cream
Shea Butter
Shea butter is fat that has been extracted from shea tree nuts. High concentrations of fatty acids and vitamins are available in this ingredient, which makes shea butter an ideal ingredient for softening skin. 
It also has anti-inflammatory and healing properties which can condition and soothe skin. 
Jojoba Oil 
The nut produced by the jojoba plant has many healing properties. The nut is processed into an oil, which is used in many people's skin care regimens. This is because jojoba oil is a remedy for acne, dry skin and countless other skin conditions. 
Jojoba oil is a humectant ingredient which means that it selas your skin with a protective barrier to keep it from losing moisture. It's anti-bacterial and anti-fungal properties also make it an essential ingredient in creams as your hands are more prone to fungus and bacteria. 
Besides, it contains natural forms of vitamin E, which leads us to the next ingredient… 
Vitamin E
This ingredient is a fat-soluble, essential nutrient with anti-inflammatory properties. It helps support the immune system, cell function and skin health. Most importantly, in hand creams, vitamin E is effective in diminishing UV damage to skin. 
It is an excellent moisturizer for dry areas of the skin and products containing vitamin E is easier to apply.
Hand Cream for Dry Skin
First things first. 
What causes dry skin? 
There are a few possibilities such like washing hands. You might notice that the hands on your skin feel much drier after washing. 
This may be because certain soaps have chemicals and minerals that dehydrate the skin. Additionally, using hand sanitizers with a high concentration of alcohol and frequent washing of hands is the best combination for extra dry hands. 
The weather (dry and cold) and a poor diet which lacks essential oils like those from avocados, almonds and salmon, could leave your skin to feel dryer than usual. 
A good hand lotion must contain moisturising effects from essential fatty oils and humectants like glycerin which locks in moisture. 
With that in mind, here are some of our top picks for the sensitive skin on your hands!
6 Best Hand Creams for Your Skin in 2020
We rounded up the 6 best products in the market that we've found to be the most effective at combating dry hands. Read on for some of the best products to soothe dry, rough skin.
#1. aspurely Recovery & Anti-Viral Hand Cream
This amazing product not only restores and repairs dry and damaged aging hands. It also maintains hand cleanliness and hygiene. 
This 2-1 revolutionary cream is not only a cream but it is also effective against viruses and bacteria, which is extremely important right now. Screening tests have proven that it is effective against viruses, including viruses of the enveloped species (enveloped species virus include viruses such as SARS-Cov, MERS-Cov and the Covid-19) and Influenza A.
As mentioned above, it has all the essential ingredients one would look for in a hand cream to nourish and hydrate skin. It helps eliminate skin dryness, redness and irritation. 
What we love about aspurely Recovery & Anti-Viral Hand Cream is the use of advanced technology. It has rendered silver into active porous micro particulates which is helpful in maintaining skin cleanliness and hygiene. This activated silver particulate is designed to remain on the surface of skin and is the first line of defense against viruses and germs. 
Having peace of mind is something that money cannot buy.
Clinically proven safe and gentle on sensitive and delicate skin, this sanitizing hand cream is ECOCERT and COSMOS certified. 
So gentle that even babies can use it. While a baby's skin is one of the most sensitive type of skins out there, it also means that people with special sensitivities can use it. It's like finding the holy grail of hand creams because it is restorative and soothing enough for people with atopic eczema, contact dermatitis, skin inflammation and wounds.
Definitely recommended.
#2. L'Occitane Shea Intensive Hand Balm
L'Occitane Shea Intensive Hand Balm is enriched with a high concentration of shea butter (25%) and helps nourish and soften dry hands. The main ingredients in this hand balm include coconut oil, honey and almond extracts which restores the skin's suppleness. 
Effects are immediate as it calms the skin. Unfortunately, this hand balm does not have any anti-viral properties, which leaves you open to potential infections from viruses and bacteria. 
Take note that this hand cream contains synthetic fragrances, alcohol and silicone, which means that babies and pregnant women cannot use it. It is not advisable for those with sensitive skin to use it as well as the presence of these ingredients may exacerbate chapped hands. 
Although the high concentration of shea butter is available, the presence of other drying ingredients kind of eliminates the benefits of shea butter.
Nonetheless, it is still on our list due to its moisturising benefits!
#3. Crabtree & Evelyn Renew + Nourish Hand Cream
This one instantly hydrates the hand. It has a lightweight formula that allows for quick absorption into skin so if you are looking for a quick solution, the Crabtree & Evelyn Renew + Nourish Hand Cream works perfectly. 
It has a light apple aroma and contains shea butter, which hydrates the skin and helps to treat blemishes.
When purchasing any skin or cosmetic product, it is essential to take a look at the ingredients and know which one is toxic for your body. After reading the ingredient list on this hand cream, we learnt that there are many ingredients listed after the fragrance and preservatives. This leads us to conclude that the percentage of good ingredients in this product is fairly low. 
While it also contains synthetic fragrances which are listed fairly high on the ingredients list, it can be harmful to your health as they are derived from petrochemicals. This includes phthalates (endocrine disruptors), benzene derivatives, aldehydes and toluene, which are carcinogens. Be wary of these!
Not all ingredients on the list are ECOVERT or COSMOS certified. On that note, use it sparingly unless you require immediate soothing and moisturising effects on your hands.
#4. Miss Dior Nourishing Rose Hand Cream
The Miss Dior Nourishing Rose Hand Cream smells amazing and users love this smell. The formula is enriched with soothing centifolia rose water to moisturize skin. 
With a water-based formulation, it penetrates the skin quickly for smooth hands and it does not leave hands feeling greasy. 
However, not all ingredients on the list for this product are ECOCERT or COSMOS-certified so use with caution. It also contains alcohol and synthetic coloring (the packaging and colour of the product is really pretty) which is not the most ideal for children and people with sensitive, dry hands as these ingredients may worsen the condition of already dry hands.
The synthetic fragrances are also listed fairly high on the ingredients list and as stated above, is not ideal. 
# 5. Aesop Resurrection Aromatique Hand Balm
Aesop claims that this hand cream provides instant hydration and has a non-greasy finish. Reviews have stated that this cream is nourishing and has a smooth consistency which helps improve cracked hands and soften dry skin.
As an overnight treatment, it is easily absorbed as the rich texture is thick enough to last a few hours.
However, after taking a closer look at the ingredients, we found that this hand balm contains potential skin sensitising ingredients such as mandarin peel oil, which could be phototoxic although more research is required. 
Essential oils that are phototoxic can cause a skin reaction when exposed to the sun. This reaction could cause blistering of the skin where the oil had been applied or severe sunburn, and this is definitely something to be avoided. 
Regardless, use it only at night, if possible, as an overnight treatment to avoid this potentially harmful reaction. 
Aesop Resurrection Aromatique Hand Balm also contains synthetic fragrances, does not have anti-viral properties and not all ingredients are ECOCERT or COSMOS-certified. 
# 6. Chanel la Crème Main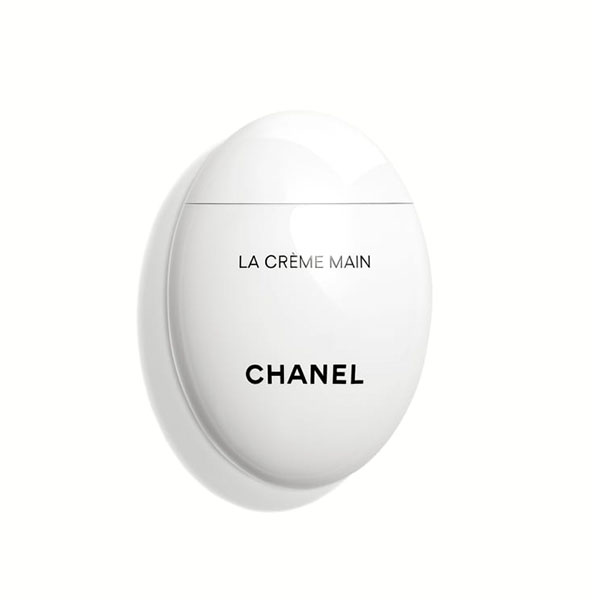 You would expect a hand cream from Chanel to be luxurious, as one would expect from the brand. Of course, expect a high price for this "luxury". Needless to say, it does its job of moisturising the skin and Chanel claims to leave skin 40% more protected and 45% more hydrated as well as improve nail strength by 70%. 
The formula is pleasant, smooth and silky in texture, giving an all-day hydration and generally left hand skin in better condition overall.
Though Chanel, for sure, do have some great ingredients such as jojoba and have a pleasant smell, it does contain synthetic fragrances.
It also contains silicone and paraffin derivatives that are high in the ingredients list. These are harmful ingredients and have been linked to breast cancer, allergies and irritation of skin, eyes and lungs. If you notice any such reactions, stop using the cream immediately. 
It does not contain any antiviral properties so this is not an added protection against viruses, germs and bacteria. 
Conclusion
While there are multiple hand products that you can try out, the aspurely Recovery & Anti-Viral Hand Cream is the one to love. With a dedicated balance of antiviral properties, and nourishing features, it is the only non alcoholic cream cum sanitizer that smoothes the skin as it protects. Also, when it comes to sanitizing and nourishing creams, it is important to consider those that are safe for people with sensitive skin, babies and pregnant women are able to use it safely. Try it today.
With love,
aspurely