The term 'holistic skin care' has been making its rounds online nowadays as more and more people are learning about it. As the environment worsens as years pass, it is bound to take a toll on our skin. 
Nowadays, you cannot be too careful about what you apply on your skin or consume for your body as skincare manufacturers are likely to take advantage of the beauty industry and promote products that only treat the symptoms of diseases rather than treating them holistically.
At times, there is an underlying problem with our body and we do not even realize it! This is why there has been a shift towards holistic skincare products instead.
This article attempts to give you all the information you need to make sure that your skincare is as natural as possible. Read on! 
What is holistic skin care?
Holistic skincare is basically treating your skin in a 'whole' way by looking at the bigger picture. 
Have you ever wondered why pimples pop up on your t-zone right before a menstrual cycle or why when you are stressed, you get a massive blemish? This is because your skin is the first representation of what is going on within your body. 
As the largest organ, your skin communicates with internal organs and external forces daily. Internally, it faces all kinds of problems in the functioning of the body and externally, there are things like dirt, wind, microorganisms and so forth which come into contact with your skin.
With holistic beauty, it means that your skincare routine has to be balanced with the right products with each person's different lifestyle so that the mind, body and spirit is kept balanced and in equilibrium.
Holistic estheticians usually ask a whole list of questions about your lifestyle before coming up with a sustainable skin care routine that is as natural as possible. 
The thing to remember is that to get healthy skin, your body has to be healthy in the first place. 
What are the best natural things for your skin?
The best thing to do for your skin is to ensure that what you consume is healthy and beneficial for not just your skin but for your entire body. As the saying goes, "You are what you eat."
Whenever possible, try to consume these or add it to your daily diet so that your skin looks brighter and overall healthier:
1. Vitamin C
Vitamin C is not just a vitamin to build your immune system but also aids in production of collagen, which is so important for firmness and smoothness of your skin. 
Vitamin C helps you to battle with skin sagging and dullness. It also helps to regulate sebum production to decrease skin inflammation. 
You can consume vitamin C by eating citrus fruits. 
2. Beta Carotene
Beta carotene is found in fruits that are red, orange and yellow. Watch out for food such as carrots, sweet potatoes and pumpkins. 
After consuming these fruits, your body will convert the beta carotene present in it into vitamin A. 
Vitamin A is an essential nutrient when it comes to the healing of wounds, protection against sun damage and encourages faster cell turnover, which means that your skin will look better, younger and healthier. 
3. Licorice
Did you know that licorice has anti-inflammatory properties? This means that licorice can be used to treat skin redness. 
Licorice extract has also been known to reduce uneven pigmentation as it blocks the production of melanin. 
This is an excellent ingredient in eye creams as there have been studies that found that it helped to lighten dark under-eye circles. 
4. Oats
This common household food is the holy grail when it comes to treating skin irritations. Colloidal oatmeal works best.
The finely-ground oats work as an excellent skin softener, and is approved by the Food and Drug Administration (FDA) to treat skin problems such as eczema, dry skin, poison ivy and certain insect bites. 
5. Soy
To make sure your skin is bright and more even, soy in skincare products works magically.
Soy, when used in a face wash or cream lightens the discolouration due to sun damage by stopping the skin's melanin production. 
6. Green Tea
Green tea is a healthy drink but it is also used as an ingredient in skincare products. 
It contains high levels of antioxidants including catechins and flavonoids that help prevent and reverse sun damage.
Green tea's anti-inflammatory properties make it an excellent ingredient in your skincare products because it helps bring down inflammation, especially in those whose skin is prone to acne. 
Do natural skincare products really work?
In terms of effectiveness, natural skincare and non-natural skincare products are equals. 
The question you should be asking instead is why you should use non-natural products or chemical ingredients when you can use natural products with the same effect. 
There is always an increased risk when using non-natural products. It may cause unwanted harm or give out extra toxicity to your skin. 
So go with natural ingredients as the better choice when it comes to skincare.
What is the best natural ingredient for facial skin?
As we already know, not everything is good for your skin. To pick what is best though, here is a rather thorough list of ingredients. You should observe to see if these ingredients are present in your skincare products. 
1. Coconut oil
As a topical soother, this is one of the most effective at hydrating your skin. Its anti-inflammatory properties are also a plus. 
Extra virgin coconut oil will suppress your body's natural inflammatory agents. However, it may worsen blemish-prone areas so avoid it in that sense.
2. Shea Butter
Shea butter is a natural ingredient that is present in many moisturizer formulations. It has a calming effect on itchy skin and has anti-inflammatory properties.  
As this ingredient does not seem to cause skin allergies often, it can be used by anybody, including those with the most sensitive skin.
3. Tea Tree Oil
Tea tree oil helps to fight a bacteria-driven acne. Derived from tea tree leaves, it has antimicrobial properties and fights blemishes. 
Apply topically but if you are using it for the first time, monitor where you have applied it as it is can potentially cause irritation on the skin. 
4. Argan Oil
Argan oil is a real powerhouse when it comes to maintaining strong, supple and elastic skin. 
This emollient hydrates the skin, repairs your skin's barriers and balances and regulates the production of sebum. 
It contains a high percentage of lipids and fatty acids.
5. Hemp Seed Oil
Hemp seed oil contains so many precious minerals that help your skin be healthy. These include vitamins A, B, B1, C and E, iron, phosphorus, calcium, iodine, beta carotene, essential amino acids and more. 
As it has so many elements and minerals in it, hemp seed oil is able to maintain the skin's natural functions and naturally preserve the upper layer of the skin's moisture.
6. Jojoba Oil
Jojoba oil is a pretty great moisturizer for dry skin. It also works in the healing of brunes, sores, scars, dermatitis and acne. 
This ingredient also contributes to skin rejuvenation and enhances skins' natural suppleness. 
7. Olive Oil
Another common household product, olive oil that is present in skincare products are very effective as a moisturizer. It helps to repair the skin's connective tissue. 
If your skin is looking rather haggard and aged, apply olive oil to it. Olive oil can also be used to treat acne. 
8. RoseHip Oil
Rosehip oil is widely used in skincare products to treat dry and irritated skin. It contains a high concentration of essential fatty acids (omega 3 and omega 6) as well as vitamins A, C and E. 
9. Willow Bark
Willow bark extract is rich in salicylic acid, which treats acne. If you are worried about getting acne then apply willow bark. It is gentle enough to use daily and helps to cure breakouts. 
10. Turmeric 
Turmeric is an antioxidant which has anti-inflammatory, antimicrobial, antioxidant and anti-neoplastic properties. It can also be used to treat skin problems like acne, eczema and psoriasis. 
Holistic skincare routines
Now that you know what is natural, it is time to build a holistic skincare routine. The first and most important part of holistic skincare is found in your diet. Consume the food stated above and other healthy food such as the adequate amount of protein, sufficient water quantities and you are on your way to better skin already. 
Try cutting out processed foods, sugar, gluten and alcohol and stay hydrated! 
Although a big part of it is in what you eat and drink, supplementing this from the outside is the next step. 
Use topical creams, moisturizers, lotions and serums to keep your skin moisturized. 
Go through your other normal routines and see if your skin improves over time. After all, the diet is the first and most important step to take when it comes to holistic skin care.
Conclusion
If you have spent thousands of dollars on skin care products and treatments only to end up with your skin not improving, it may be time to look inwards and see if you can treat the cause instead of the symptoms.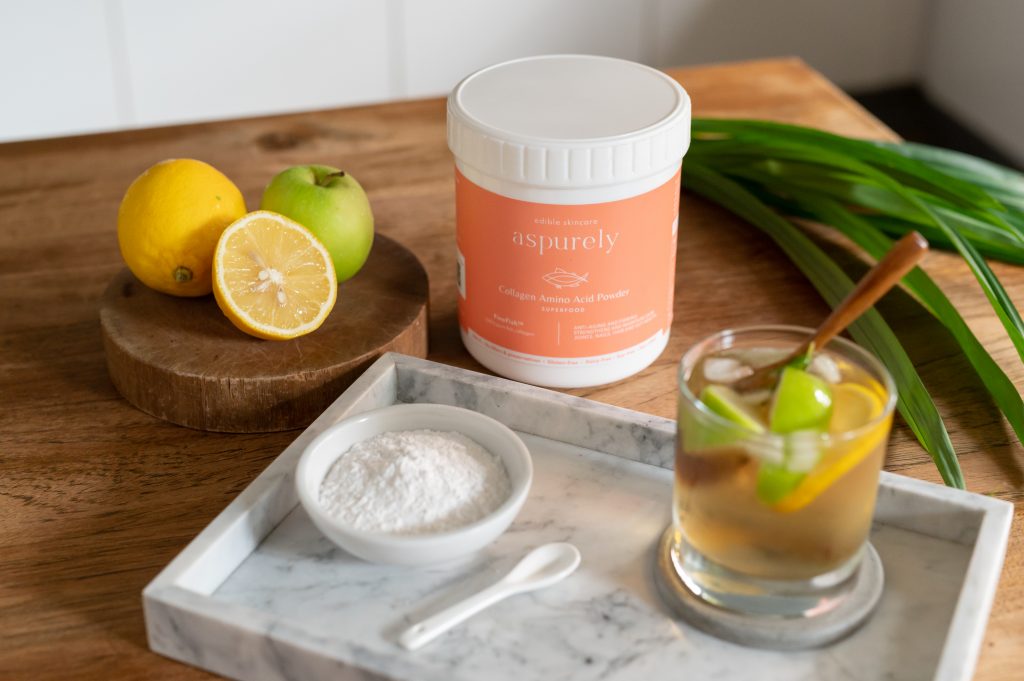 To experiment and see if holistic skincare is for you, aspurely Edible Skincare may be just the right place to start off. The skincare is edible and is specially formulated to work in tune with topical skincare products. All ingredients are natural with no preservatives, chemicals or synthetic colours. Taking care of your skin by looking inwards is the first step achieving a healthy glow!
With love,
aspurely