Skincare For Dry Skin To Try Out
Dry skin — if this is your skin type, then you may very well have a love-hate relationship (that's mostly hate) with your complexion. After all, dry skin can at times feel uncomfortable and tight and look dull.
That being said, there are skin care tips you can keep in mind and skincare products you can use to help keep your complexion hydrated and glowy. Because yes, it takes more than just moisturizer to take care of dry skin.
Before delving into the skincare routine, let us first understand what is dry skin. What are its causes? And how to treat dry skin?
Dry Skin And Its Causes:
Dry skin is a flaky, scaly, rough skin. It gets serious during winters to manage dry skin. It occurs when the skin can no longer retain its natural moisturizing factors and gets dehydrated. In other words, the skin loses its ability to replenish itself.
Causes:
The common causes include:
Over-cleansing (especially with bar soap)
Harsh ingredients
Abrasive scrubs
Unprotected sun exposure
Many common elements in the air we're exposed to on a daily basis.
That's why you can slather yourself in creams all day long, but your skin reverts back to its rough, uncomfortable, tight feeling. If you're not addressing the root of the problem and using the right skincare products, you don't stand a chance of alleviating dry skin.
Here are some skin care tips for those with dry skin should follow. It's time to upgrade your skincare routine and show your skin some major love!
Skincare Routine To Follow: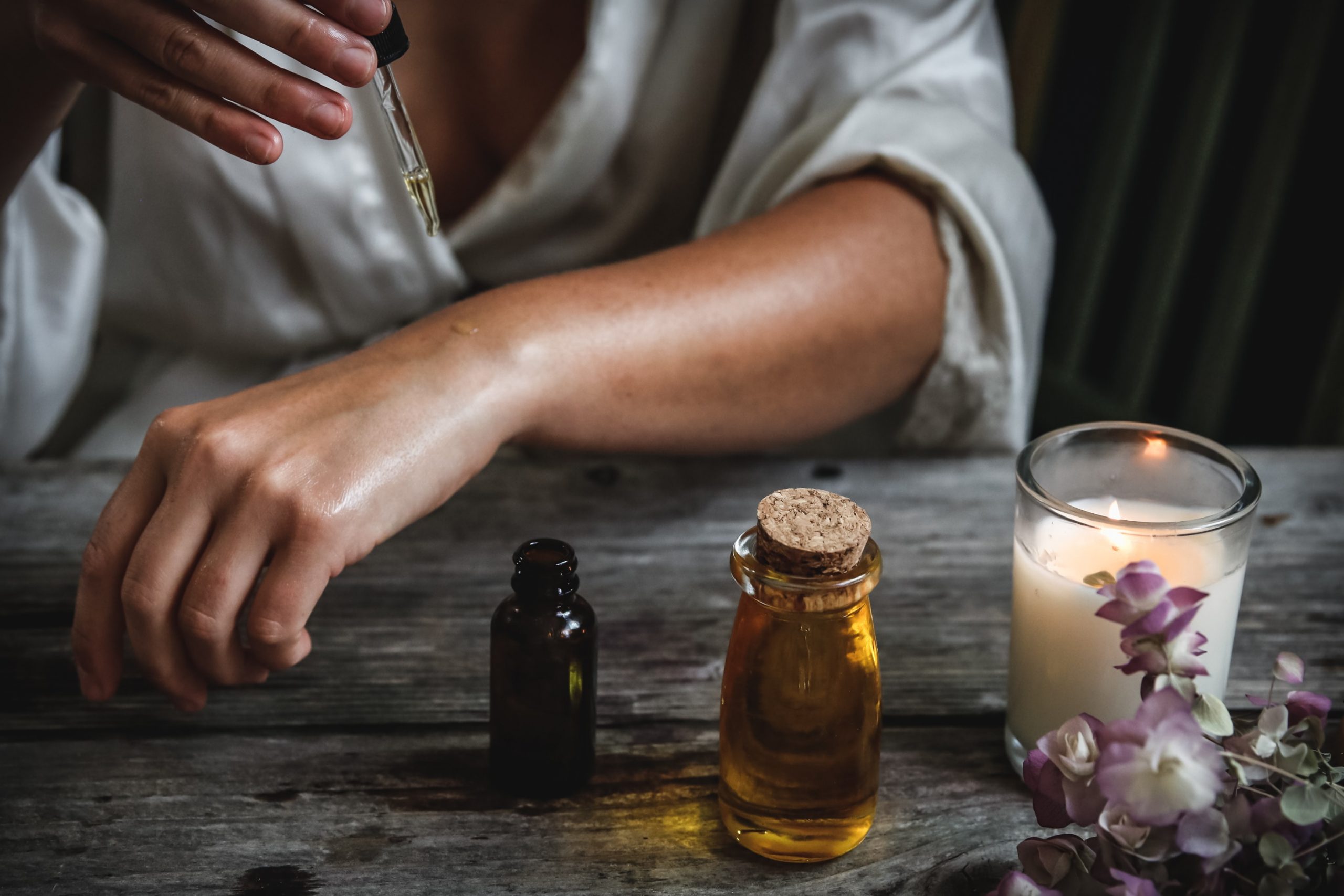 1: Wash With Lukewarm Water
If you think hot water is your friend — think again. When you turn the temperature up too high and wash off in hot water, this can strip your skin of essential oils, which can cause it to feel drier.
That's why it's prudent to make the switch to rinsing in lukewarm water. Do so when you're cleansing your complexion as well as when you're in the shower.
2: Be Gentle When You Cleanse
When you have dry skin, it's important to pick a facial cleanser that is formulated for your skin type—and to be gentle while you're cleansing. Consider using aspurely's Natural Amino Acid Cleansing Foam.
3: Exfoliate Weekly
It is quite common for dead skin cells to build upon the surface of your skin, causing it to look dull. Exfoliation helps in eliminating dead skin.
So, if you have dry skin, try adding an exfoliating face scrub to your skincare routine. Pay attention to how your skin responds to figure out how often you should exfoliate your dry skin.
4: Apply Moisturizer To Damp Skin
When you've just hopped out of the shower or finished washing your face, don't towel off. According to the American Academy of Dermatology (AAD), the best time to apply moisturizer after cleansing is when your skin is still damp.
5: Moisturize Morning And Night
Regardless of your skin type, you should moisturize morning and night — and that certainly holds true for dry skin. Try aspurely's Ultra-Regenerative Moisturiser.
Apply your moisturizer after cleansing, smoothing it over your face and neck.
6: Layer Lotions Over Oils
Instead of choosing between a moisturizer and facial oil, why not use both? Massage 4-5 drops of a good facial oil onto your skin. Smooth it from your nose to ears, eyebrows to the hairline, and neck to the jawline.
Follow up with your moisturizer of choice for a double dose of moisture. 
7: Commit To Taking Sun Protection Measures
Whatever your skin type, you should take sun protection seriously. According to the Food and Drug Administration (FDA), you should wear a broad-spectrum sunscreen with an SPF of 30 or higher each day.
According to the FDA, this isn't the only sun protection measure you should take. In addition to wearing a broad-spectrum sunscreen, you should also limit your amount of time in the sun, seek shade whenever possible, and cover up exposed areas.
8: Make Face Masks Part Of Your Routine
Using a face mask can be a totally relaxing experience — but that's not all. If you have dry skin, listen up! With the passage of time, harsh cleansing can be drying and sensitizing, leaving the skin feeling uncomfortable.
Apply an even layer to clean, dry skin, leaving the face mask on for 10-15 minutes, then rinse it off with lukewarm water. Use twice a week for best results.  Make face masks as part of your routine!
9: Keep Lip Conditioner On Hand
Your face isn't the only area that can be dry — your lips can be, too. Apply a lip conditioner whenever necessary to help keep your lips hydrated.
This can be particularly useful before applying lipstick, as you don't want the color to draw attention to any dryness.
10: Use Makeup Formulated For Dry Skin
When choosing makeup products, look for natural ingredients based products. Chemical-free products are easy on dry skin and do not further add to the dryness.
11: Fake Your Way To Glowing-looking Skin
Dry skin can end up looking dull. To have the look of glowing skin, reach for the right makeup products. In this case, we're talking about highlighter.
Use a liquid highlighter to help create the appearance of radiance, dotting it above your cheekbones for believable-looking luminosity.
12: Spritz On A Facial Mist To Help Refresh Your Face
If you have dry skin, keeping a refreshing facial mist nearby is a good idea. That way you can help refresh your complexion throughout the day.
Look for a formula infused with hydrating ingredients and apply whenever you feel like your skin needs a refresher.
It's the ideal, instant pick-me-up for dry skin — whether you're at home or on the go. On a hot summer day, spraying on a facial mist can feel especially refreshing.
13: Add Moisture Into The Air
Your environment — both outside and inside — may not be doing your complexion any favors. Whether it's cold and dry or you're spending a lot of time inside air-conditioned air, the lack of moisture could be making your skin feel even drier.
To help counter that lack of moisture in the air, invest in a humidifier. According to the AAD, using a humidifier is a good option for those with dry skin, as it can help put moisture back into the air.
Snag a portable humidifier for your desk at work and one to sit by your nightstand to help maintain hydration overnight.
Skin Care Products For Dry Skin
When looking for skincare products it is very important to look for products that are soft on the skin. For example, aspurely brand uses 100% sustainable plant-based ingredients in its products.
Its products are cruelty-free and do not contain silicones, parabens, synthetic fragrances, and colours. Also, it is a Cosmeceutical grade and not just cosmetic grade.
When choosing a cleanser, look for one that hydrates rather than strips your skin of moisture.
Give a try on aspurely's Natural Amino Acid Cleansing Foam. And for those who suffer from redness, consider products with niacinamide as it aids with inflammation.
If your skin is sensitive, it's best to go easy with toner. But if you do want to use one to get rid of leftover makeup, opt for a formula that's alcohol-free.
Try Restorative & pH Balancing Toner from aspurely. It's rose floral water ingredient is ideal for dry, sensitive, inflamed skin.
Serums pack a punch of concentrated ingredients. In the morning, pick a product that contains vitamin C for antioxidant protection. And for the night, a serum with retinol is a good option.
Retinols can also be applied in serum-form called bakuchiol, a naturally derived retinol which is often more tolerable for dry skin. Try Anti-Aging Revival Serum from aspurely.
To give your skin the hydration it needs to choose a moisturizer with ceramides, glycerin, or dimethicone.
Dry skin often needs thicker moisturizer so it's best to choose a non-comedogenic or oil-free formulation. Investing in aspurely's Ultra-Regenerative Moisturiser would be a good option.
Bottom Line
Dealing with dry skin can be challenging especially if you tend to neglect your skincare. It is important to keep skin well-nourished and hydrated. A combination of skincare routine and right products can help keep the dryness at bay.
In case you have a serious issue of dry skin which isn't manageable by regular care then it's best to get checked by a dermatologist. Sometimes dryness can be due to an underlying disease or certain medications.
Finally, winters demand extra care for all skin types. So better to invest in a good moisturizer beforehand. Show some love and care to your skin and you'll notice a remarkable difference in your skin.